July and August seem to have flown by and we welcome September to the calendar. With the calendar change and the return to school, the rhythms of life change for all of our Argyle Gator students, staff, and community.
While many of you have heard, Mr. Darcy McKeown, the principal of Argyle for the last two years, has been placed at Dr. Perry School as of only two short weeks ago. Mr. McKeown has been a great help to me personally as I transition into the role here at Argyle and I know he will be missed by one and all. I want to wish Mr. McKeown all of the best in his new endeavor and I am certain that he will make a tremendous impact at his new school.
Obviously, this is my first blog post as principal at Argyle School and I want you all to know how excited I am to be a part of this
great community. In the very short transition time that has been a part of this move I have come to know how amazing the staff is here at the school and how committed they are to creating an amazing learning and growing opportunity for every student in this building. It is a very reassuring feeling, as a co-worker, to know that each part of the team, regardless of role, wants the same ultimate goal for the students in this school community.
We have a few new faces in the building and we want to welcome them:
– Brooke Plante replaces Lisa Kowalyshyn in a Gr. 1/2 classroom until early October. Lisa is off recovering from an injury sustained over the summer.
– Lori Benoit joins us in a Gr. 3/4 classroom.
– Shannon Sanchuck will be with us half time as a Teacher Librarian
– Barbara Flaten-Orr is an Arts Education Specialist
– Amanda Roman is an Educational Assistant
We also have three interns from the University of Regina who will be working with us on a full-time basis until the December break:
– Brianne Bolt will be working with Loretta Paoli in EAL
– Christine Martinuk will be working with Leslie Pominville in Gr. 4/5
– Amanda Burns will be working with Juanita Leupold in Gr 5/6
On the first day of classes, our entire body (minus the K's) met in the gymnasium and I highlighted three important ideals that I would love to see realized in all that we do. The first ideal centered on community and the importance of growing and building community with each other. We all have assets that we can bring to our community to improve it and the challenge we all face is being open to share the talents of the group. If our community is to be all it can be – we must work collaboratively to achieve this. The second big idea we discussed was leadership and the many ways that leadership can be demonstrated. As it was the first day back to school, we focused on the first step of leadership and that is the ability to lead ourselves. Leading ourselves requires that we do what needs to be done, when it needs to be done. I know, even personally, that this is a challenge for young and old alike and an area we all can place our energies. The last big idea we talked about was integrity. We discussed the connection between integrity and leadership and noted that integrity requires that we do what is right even when no one is looking. It means that our word matters and honesty is central in all things. These are important ideals that if aspired to will lead to personal growth.
There are many amazing opportunities that arise in, and out of, the classroom. I want to encourage each of you to get involved in those opportunities and make this the best place we can for our entire community.
Please feel free to contact me anytime via email at mick.panko@rbe.sk.ca or stop by the school for a chat.
GO GATORS!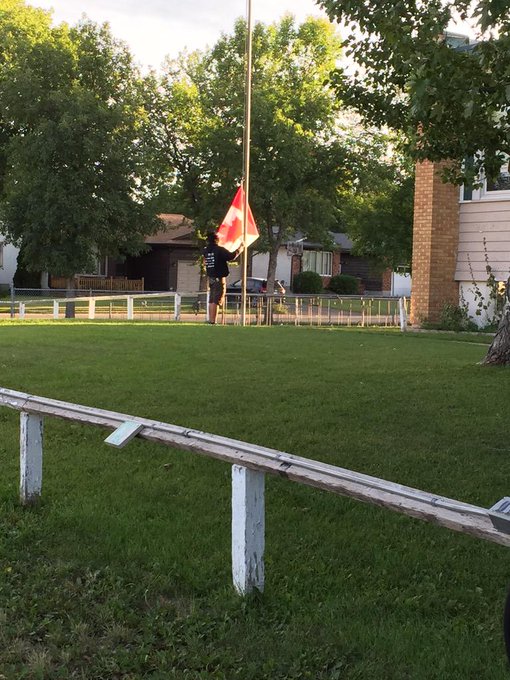 (Mr. De La Cruz raising the flag for Day 1)
MICK PANKO